DEGRITTER - Macchina Lavadischi ad Ultrasuoni - Campione del rapporto qualità/prezzo - Prodotto Made in Europe - Ampia dotazione di accessori - 2 anni di garanzia in materiale, manodopera e trasporto
Cod. prodotto:
ACC0191RCM
Macchina lavadischi ad ultrasuoni
DEGRITTER
Un vero campione nel rapporto qualità/prezzo.
Le prestazioni sono da prima della classe.

La facilità d'uso è garantita da un bellissimo dispaly a colori e da soli 2 tasti di facile utilizzo ed intuitività.

Un libretto di istruzioni, in lingua Italiana, prende per mano l'utente aiutandolo nell'uso e nella manutenzione.

La velocità nella sostituzione dell'acqua di lavaggio è garantita dalla vasca asportabile in modo semplicissimo e sicuro.

Il costo del materiale di consumo è minimo visto l'utilizzo di acqua distillata, dalla possibilità di lavaggio multiplo del piccolo filtro e dall'uso minimo della soluzione sgrassante di lavaggio (fornita tra l'altro in dotazione e suffieciente per centinaia e centinaia di LP).

Il risultato è realmente notevole; i vinili sono puliti in profondità grazie al lavaggio ultrasonico e all'ascolto il suono "rinasce" letteralmente.

Degritter è un prodotto COSTRUITO IN EUROPA.

 Assistenza tecnica presso nostro laboratorio
Garanzia di 24 mesi in materiale, manodopera e trasporto

Una macchina DEGRITTER è presente in negozio in dimostrazione permanente per i nostri clienti.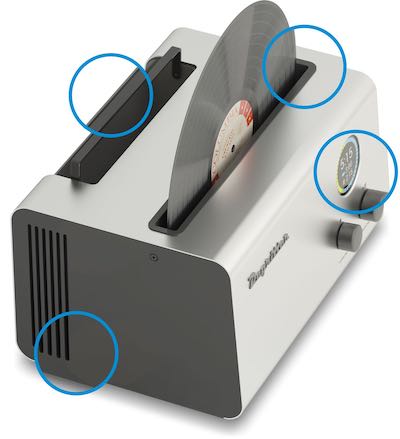 Ultrasonic Cleaning
The core of Degritter is the 120kHz ultrasonic cleaning system. It has been carefully designed in house to make sure that records are cleaned thoroughly and without any damage to the surface of the record.
Ultrasonic cleaning works by creating a large number of microscopical bubbles in the cleaning bath, a phenomena called cavitation. The bubbles are a vacuum created by high frequency pressure waves moving through the water. Every ultrasonic cycle bubbles are formed and collapsed, releasing energy as heat and minuscule strong water jets. These effects combined thoroughly clean all surfaces down to a microscopic level.
A 120kHz frequency provides finer and more evenly distributed cleaning action than lower frequency systems. In fact, this technology at even higher frequencies is used to clean parts in the semiconductor industry, where surfaces need to be pure on a molecular level.
Degritter uses a custom ultrasonic bath with a custom 300W ultrasonic amplifier that has been designed specifically for cleaning vinyl records. The cleaning bath has four ultrasonic transducers (emitters), two on both sides covering the whole record. Degritter also comes with Frequency Sweep feature, which provides better cavitation energy and power distribution. Degritter is the only cleaning solution on the market working at 120kHz and having the Frequency Sweep feature.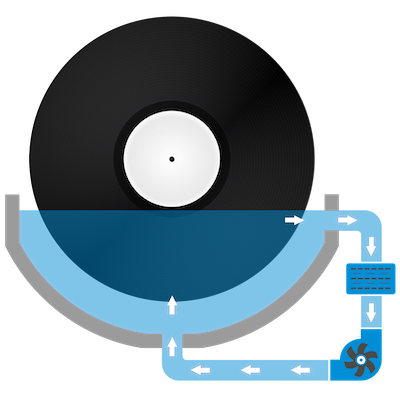 Active filtering solution
Degritter record cleaning machines come with an active filtering solution. Active means that it removes small particles and dirt from the water during the ultrasonic cleaning process. Dirt washed off the record is filtered out of the ultrasonic cleaning bath and it won't end up back on the record.
Features of the filtering system:
Easy maintenance
Gets rid of both surface dirt and dissolved dirt
A fine mesh filter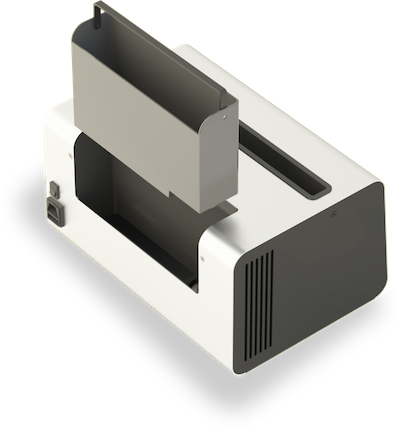 Principle and Maintenance
The active filtering solution works by circulating water through the filter and then back into the bath while your record is being cleaned. Water is pulled into the filter from the top of the tank in order to remove all floating dust and particles. Heavy particles that settle at the bottom will be pumped out to the external water tank, which has a dedicated sediment section.
The filter is easily accessible from the side of the machine. It is made up of a cylindrical steel mesh which contains a replaceable open cell foam filter. The outer part of the filter is washable, which makes for easy maintenance and upkeep.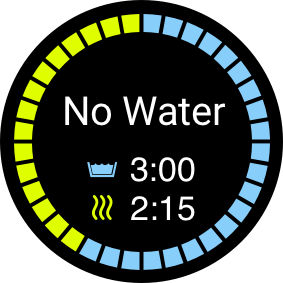 Configurable Drying Fans
The drying cycle with blower fans can be the loudest element of the cleaning cycles. In order to give users the control over drying fan speed, power, and noise, we've created 20 different fan power settings that can be selected.
Setting the Fan Power to high will dry the record quicker, but it will also generate significant amount of noise. On low settings, the fans will be almost inaudible, but the drying will take longer.
 
Software Updates
At the heart of our user experience is the control board that is connected to all the sensors, actuators and the LCD. To make sure that the machines that have already been shipped out to their new owners are running on the latest software, we've added an SD card slot that allows the user to update its software.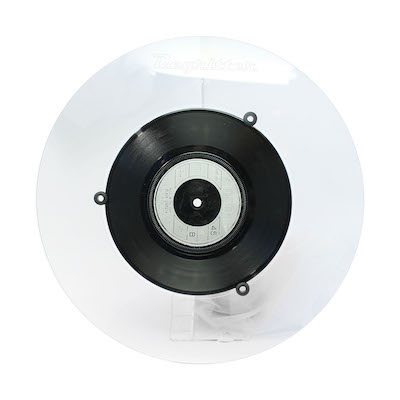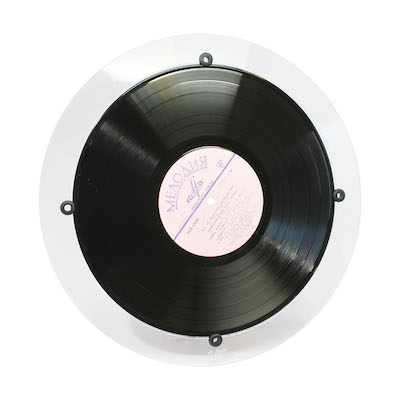 7" and 10" Records
While the Degritter is designed to clean 12″ records by default, it's possible to clean 7″ and 10″ records as well. For this we've created a set of adapters that can be attached to smaller records to convert their diameter to 12" and clean them just the same.
Safety
Degritter is equipped with multiple sensors to constantly monitor the state of the machine. This way the machine is able to detect and safely recover from any unexpected use cases like loss of power during the ultrasonic washing or if the water temperature rises to unsafe levels for vinyl. As an extra safety net we also have software subroutines checking the status of the sensors to prevent any unexpected failures due to sensor malfunction.
Degritter is capable of recovering and warning users in the following situations:
sensor malfunction
water temperature too high
water in the cleaning tank due to switch off during wash
external water tank missing
insufficient water
pump failures
Cleaning Fluid
Every Degritter machine comes with a batch of cleaning fluid concentrate. It's not necessarily mandatory to use it, but it does have certain benefits. The concentrate is made out of anionic surfactants which help remove the dirt. It's safe to use and won't harm the vinyl.
We recommend using of 2 ml of concentrate per one water tank of 1.2 liters. This creates a solution where surface tension is lowered enough to allow ultrasonic energy to break the water more easily while anionic molecules are delicately extracting the dirt from adjacent surfaces.
In short here's what the cleaning fluid can do:
Improves the cleaning effect further
Shortens the drying time
Creates an antistatic layer (can also be rinsed off if needed)
Fully safe for vinyl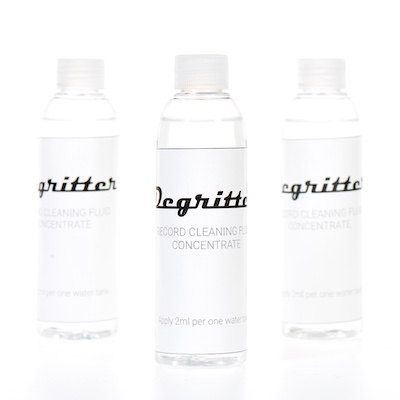 Features
Dimensions
37 × 28 × 21 cm
14.6 × 11 × 8.3 in
DEGRITTER - Macchina Lavadischi ad Ultrasuoni - Campione del rapporto qualità/prezzo - Prodotto Made in Europe - Ampia dotazione di accessori - 2 anni di garanzia in materiale, manodopera e trasporto